Having a social media presence is critical for any business or individual hoping to be recognized as an influencer in their field.
If you're a business, you're expected to be present online. It's frequently seen as a critical indicator of a person's level of trustworthiness.
Despite this, it can be difficult to maintain an active social media presence without it taking up a significant amount of your time and energy.
The fact that different social networks' users are most engaging at different times presents a significant difficulty. It is imperative that you post at these peak periods in order to connect with as many of your followers as possible.
All posts could not be "live" at the same time for a business. As a result, software developers have devised tools to simplify the process of posting to social media.
Through social media scheduling software systems, you may create and bulk-schedule several articles at once. This can be done at a time that is convenient for you, and you can then use your preferred tool to post at the most appropriate moments.
As a bonus, they allow you to produce and distribute more content. In this piece, we'll look at the best social media posting and scheduling tools for the year 2023.
2023's Picks for the Best Social Media Posting and Scheduling Tools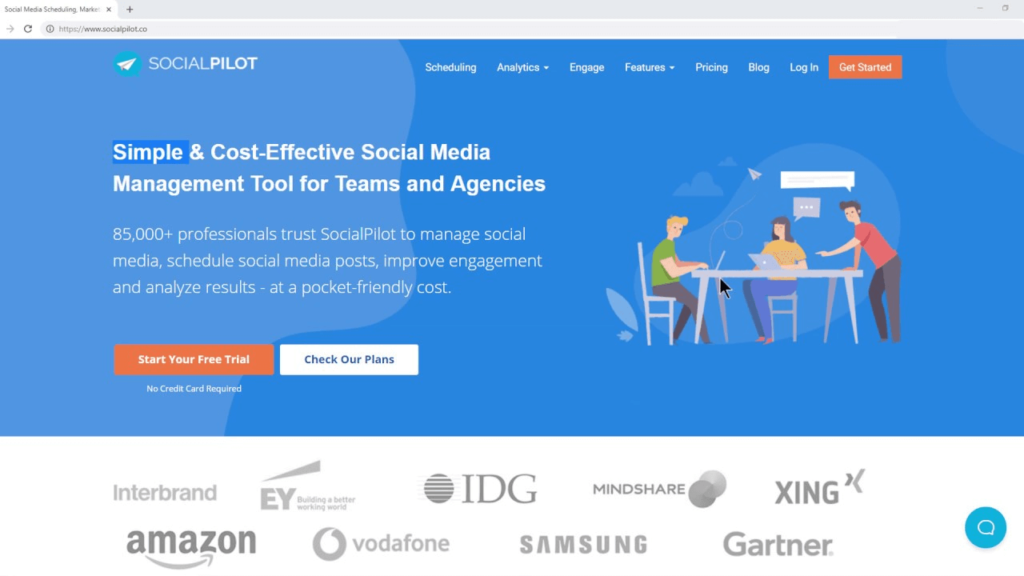 Social Pilot
SocialPilot options range from $30/month for professionals to $150/month for agencies. Annual plans save you 15%.
In comparison to many of its competitors, SocialPilot allows you to join up for more social network accounts at each tier of price.
For example, you can register ten social media profiles with the lowest Professional plan level, whereas agencies can register 75 accounts. As a result, SocialPilot claims that you will be able to post as many updates as you want without fear of running out of space.
Simple, clear, and well-organized, SocialPilot's UI is a joy to use. Each account can be grouped into relevant sub-groups, as an example (by channel, by client, etc.)
Setting up a group of social media channels to which you regularly publish makes posting to many channels a cinch. Once you've done that, all you have to do is select the group you want your post to appear in.
TikTok videos may now be created and scheduled via SocialPilot. Using an independent publishing schedule for each TikTok account, you can post videos to many accounts at the same time.

Hootsuite
Hootsuite gives you the option to pre-schedule posts so that they go live at a later date and time. Posting to a variety of social media accounts is possible, depending on the plan you select. You can either write your own pieces for future (or current) publication, or you can choose from a list of previously published posts.
A wide variety of social media networks are supported by Hootsuite, including personal accounts, company pages, and more. There is a free version available, but it only allows you to schedule 30 messages across three social media accounts for one day.
The $30 a month Professional package is more user-friendly, allowing you to schedule up to 10 social media accounts at once. Bulk scheduling is also possible at this level.
There are also Professional and Business plans available for $129 a month and $599 a year, respectively, if you require more advanced social media scheduling capabilities.

Social Bee
With SocialBee, you can spend more time creating great content and less time worrying about when it will go up. Using SocialBee, you can plan out your social media posts ahead of time and track your results after they go live.
A lack of functionality like social media tracking and interactivity, content curation, A/B testing, and PDF report generating is seen in SocialBee's lack of competition.
SocialBee, on the other hand, is a well-known social media management tool with a mobile app for managing social media on the move.
Rather than having to granularly set posts, SocialBee allows you assign them into sections, making it easy to schedule various types of articles. However, if necessary, you can set them up individually.
This tool saves a lot of time because creating posting schedules takes a lot of work. SocialBee alerts you if you run out of planned posts or if something goes wrong.
Using SocialBee, you can analyze your competitors' Twitter followers and get recommendations for possible new followers. It is now possible to establish an active audience by contacting them.
With SocialBee, you don't have to break the bank. For small-medium enterprises and major digital agencies, SocialBee's plans are more affordable than Hootsuite, Sprout Social, and Sendible.
Rather than keeping your workforce small because of continuing software costs, this pricing helps to expand your company.
In contrast to most other social media management software, SocialBee connects with a wide variety of link shorteners, including bitly. Some of the companies that fall into this category include Rocketlink and Rebrandly.

Feedly
Feedly is a great app. It allows you to categorize the blogs you love into feeds so that you can simply group blogs with similar subjects.
As long as you have relevant content in one stream, you can disregard the rest of the feeds.
It's easy to get your news from all around the web with Feedly, a feature-rich feed reader.
Whether you're interested in news, blogs, social media, RSS feeds or other sources, you may use it to keep up with the latest developments.
Using Feedly to post content from social media is the best feature.
You can use the power scheduler to repeat the same piece of information at a later date. Using this functionality for anything other than scheduling tweets is a no-no.
The information can then be removed or edited to say whatever you like. As a social media manager, it's good not to have to sift through a million different websites when you're prepared to publish your posts.

MeetEdgar
MeetEdgar has a wide range of social media scheduling options, including those for Twitter, Facebook, and LinkedIn. Instagram and Pinterest are expected to be added soon.
Edgar is the name of the tool, and the website/app is where you "meet" it.
Your content can be pre-ordered in the most efficient manner possible. In addition to blog entries, you may establish categories for other forms of content such as promotional materials, quotations, and inquiries. You can utilize the social media calendar to schedule posts for specific times of day.
It's a breeze to republish content that hasn't been updated in a while.
Your entries aren't thrown away after they've been published since Edgar recycles them over time.
The more times Edgar shares your material, the wider an audience it reaches, without you having to do anything additional.
It costs $49 per month for MeetEdgar, however there are discounts for military personnel and non-profit organizations.
Conclusion
Brands may communicate directly with their customers via social media and reply to their questions and comments in real time. In addition, social media marketing provides a stronger platform than other digital marketing platforms to target and engage interested customers in a more meaningful manner.
Engaging a full-service social media agency like MediaOne, which has worked on some of Singapore's most well-known ads, is a better idea. Work with one of Singapore's leading social media marketing agencies to expand your customer base and increase your revenue through platforms such as Facebook, Instagram and other social media.
Related Posts:
Picuki – Guide About Instagram Viewer and Editor Tool
What does CFS Mean on Instagram?