Snapchat came in 2011, and it became the fastest growing application in social media world. Snapchat has over 319 million users across the globe. Among these 300 million+ users, India alone has over 74 million users, right behind the US. Who's leading with 108 million users. This application is famous for various reasons like snaps, stories, custom stories, snap streak, snap score, filters, lens, geo finder, disappearing messages, and much more. Youngsters especially Generation Z is obsessed with this. They spend half of their time maintaining snap streaks with their friends and family.
Like other applications, Snapchat also introduces a Dark Mode in its interface. Initially, it is only available on iPhones or IOS. Dark mode looks classy and elegant for sure. It will make your screen looks more comfortable and trendy. By the end of 2023, it is expected that dark mode introduces in androids as well.
Benefits of Dark Mode
There are so many perk that you can enjoy after enabling dark mode on your phone. A few of them are as follows.
It may give you a lot of health benefits.  Think you wake up at night and switch on the phone, you may think suddenly the sun comes up. It may affect your eyesight and discomfort. According to doctors and scientists, exposure to high resolution and brightness may cause constant headaches. After constant use of high brightness, it may cause insomnia and weak eyesight in you. So enabling a dark mode can give you the most comfortable and convenient experience on Snapchat.
Another benefit is the better Battery Life of your device. After you switch to dark mode, you will notice around 25 percent more battery life than before. So this may give you more time to enjoy this photo-centric app than in light mode.
It looks trendier as well. From 2021 almost every application launches its dark modes, like Facebook, Instagram, WhatsApp, etc. Even Google chrome launches its dark mode for users. So enabling it gives your phone the fashionable look as well.
How to Enable dark mode in IOS and iPhone
For most of the applications, dark mode enables automatically. But Snapchat is in the initial stage of launching its dark mode so you have to go to settings and enable it personally. Following are the steps you can take to enable dark mode on your iPhone easily.
Open your Snapchat application and login if you haven't made an account. A valid account is a must to enjoy this feature.
Tap your bitmoji or profile picture on the top left corner of the screen.
Click on the settings options on the top-right corner of the screen. These options are right in front of you so there will be no difficulty at all.
There will be an option named My account. Open it and then tap on appearance. This is second last step for enabling this feature.
In this option, a dialogue box will appear in front of you. There will be three options that you can choose from. Here just choose "Always Dark" from the option. Tap on done and that's it, dark mode on Snapchat is enabled.
Choose Match System Mode in iPhone
iPhones or IOS are technically so advanced and updated in the market. The creators make sure that users enjoy the most amazing experiences while using Snapchat. They also introduce Match System in the Snapchat interface. This system is more practical and comfortable.
 If you enable this system, the phone will automatically detect the time and light on your phone.
After this, it will set modes according to phone timings.
During the day or in bright light, it will be light mode. Meanwhile, in night or dark areas it will switch to dark mode automatically.
If you enable automatic dark mode in settings as well. Just go to display and brightness in the settings. Then choose automatic and in the custom, there will be a dialogue box that shows the sunrise to sunset option. Select that and it will light mode in day and dark mode after sunset.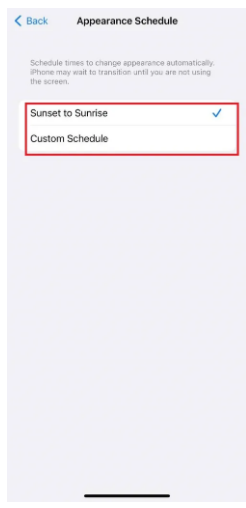 How to enable dark mode in Android
Android users are eagerly waiting for dark mode in their favorite application. But despite many promises and announcements, creators do not release dark mode on android devices.  Right now there is only a light mode on android.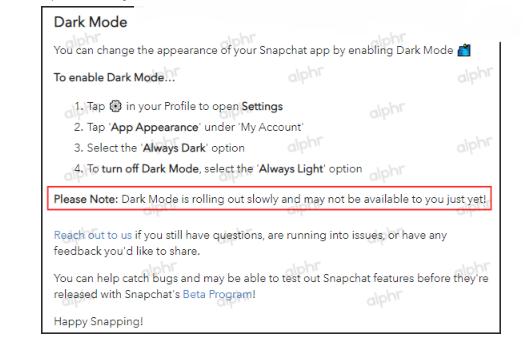 Enabling dark mode in Oppo, Vivo and Realme phones
There are still a few ways where you can switch to dark mode on your android devices. One Plus phone, realme, oppo, and Vivo phone have one option where they can turn their entire interface into dark mode. It will enable dark mode in Snapchat as well. You have to follow the following steps to get that mode activated.
Open settings on your phone.
Select "Display and Brightness"
There will be dark mode option, tap on that to enable it.
Tap on "Dark mode for third-party apps (Beta)"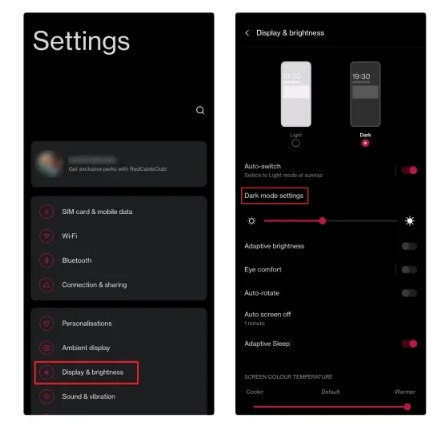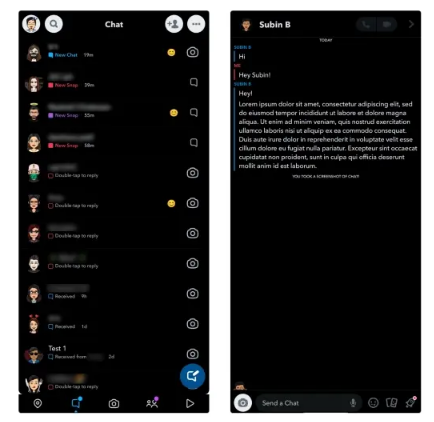 Select "Snapchat" and switch on its toggle for dark mode.
And that's it; Snapchat will be converted into dark mode.
Few disadvantages in android
Although mode will be as per your choice by these steps. But sometimes the interface crashes without any reason. It destroys the experience for so many users. In a few cases, the screen goes blank and nothing can be seen after shifting to dark mode.
So Snapchat is yet to release its official website on iOS and android. So users have to wait for a few more months to enable this amazing feature on Snapchat.
Dark Mode on iPhone disappears as well
After a short release on iPhone, suddenly it disappeared on its interface as well. Users may be furious about this but creators promised to get this back as soon as possible. Snapchat is one of the very few mainstream social media apps to lack dark theme support on Android in 2023. While we hope the company to turn things around next year, we hope this guide helped you get an early taste of the feature right now.