Instagram is by far the most popular application among youngsters these days. Users do many things with their profile to make it catchy and blingy. Some users create an account that catches everyone's attention in one glance. That is primarily because of their username or handle names. Now there are two types of names shown on everyone's account. One is the username and the other is the display name.
Display Name
The display name is written right under your picture bubble on your account. It is visible to people along with your bio or basic information. You can keep your display name as whatever you like. You can keep your real name, nickname, or even email address.
If you want to change your display name the procedure is so easy. Just open your profile screen on your phone.
Go to the edit profile option
Edit your name from the list
Tap on done and if that name is available, your name will change instantly.
The Instagram interface allows you to change your name twice in 14 days.
If you want to change your name more often, then you cannot change the name because of the application's terms and policies.
Changing Username on Instagram
Now username is written on the top left corner of your profile. It can be anything and people usually experiments with it to make it catchy or attractive. If you work professionally or you are working on something specific that you want to express in your profile. Sometimes people write their professional designations or cute nicknames on their usernames.
Sometimes people are bored or want to convey some message through their profile then they change their username on their account. Now to change the username the policies are almost the same as the display name. But you can change your username once in 14 days. It can't be longer than 30 characters and can only contain letters, numbers, periods, and underscores. You can keep it as unique as you can.
Following are the steps you can take to change or claim a new username or Insta handle name.
Open your Instagram account from your phone.
Open your account profile by tapping on the bottom right icon on the screen
Tap on the "edit profile" option.

Image Source: Mashable
Change your username; keep it as unique as you can.
You can add numbers, emojis, email addresses, or anything you want to keep quirky or catchy.
Tap on done or apply

Image Source: Mashable
Instagram will tell you whether this username is available or not
After that you can change it after 14 days if you don't like it.
Change Your Username On Website
Now Instagram has another feature that you can do to change your username easily. Instagram can be operated on a laptop, desktop or bigger computer systems. Few features you cannot enjoy on desktops or laptops like posting stories or reels. But you can change your display picture, display name, username, email, contact number, or in short all the settings on your account.
Here are the steps you can follow to change your username on your laptop conveniently.
Open the instagram.com or its website
Login to your account by adding your credentials in the tabs
Now open the profile section of your account
Click on the edit profile option on the screen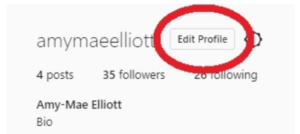 Change your username that must be at least 30 letters only
You can keep it as catchy as you want
Click on the done or apply option

Image Source: Mashable
They will review whether the username is available or taken
If available then your name will change
If the name is taken, you can try after 14 days again. Sometimes the user changes their username and your desired username became available.
Within a few minutes and easy steps, you can change your username quite conveniently.
Reasons Why Your Username Does Not Change
Sometimes Instagram does not allow you to change your name. There are a few reasons that this problem can occur. Here are the following reasons that can cause this problem in your account.
You exceed your limit:  If you change your username more than once in 14 days. As per the Instagram community guideline, this is not allowed to any user. So if you try to change it otherwise. A message will appear saying that this action cannot take place. So you have to wait for 14 days to change your username.
Username already taken: If you chose the name that is already taken by another user. The community service will tell you that the name cannot change. So you have to choose the as unique name as you can. Choosing a username that is unique and eccentric is a really big task today's generation can do. Because people are so creative these days so mostly usernames are already taken. So before changing your username find an as different name as you can.
Internet speed is compromised: If your internet connection is lousy and slow. Your internet router is not stable and the bandwidth is so bad. Then changing your username is quite risky and difficult. It may affect the interface of Instagram and it cannot follow the command user is giving. In that situation, the username does not change. So to change your username check your internet connection and speed beforehand. It will make your experience more smooth and easy.
You can report to Instagram about this issue
If still you cannot change or alter your username. Even 14 days later and all the requirements are met. This is an alarming situation. In this case, you can send a complaint or report a problem to the Instagram technical department. For this, you can follow these steps to send a report to Instagram offices.
Open your profile by clicking on the bottom right icon on the screen
Tap on the hamburger or three lines that are placed on the top right corner of the profile screen
Find help in the options
Send report to Instagram and tap on send.
We tried to give a complete guide on this issue. If it is useful let us know via email or messages.