Instagram is the most famous photo-centric application in the world. It has millions of users in this application. People use this application to share their lifestyles, precious moments, and many other things. Since the beginning, it has proved that this application is unique in so many terms. With updates and new tools, a lot of features were added like chatting, calling, video call, story, and most recently reels. In short, this application became and is maintaining its position quite efficiently.
Syncing with Contacts
When you set up your Instagram account, it needs a few things to get you started. Instagram interference asks for contact syncing from you. Now this syncing is of two types
Facebook Contacts
Phone Contacts
Facebook Contacts: Instagram and Facebook both are owned by the parent company Meta. So they introduced this feature on Instagram. With one click the contacts on Facebook will automatically sync with Instagram as well. You may have to add your Facebook credentials to the requirements. The interface will automatically scrutinise the contacts that are on Instagram and will show them in the suggestions.
Phone Contacts: After setting up your account they will ask about your contact number as well. Just give them access to your phone's directory and that's it. All the contacts on the phone are synced with Instagram.
How to Find Your friends on Instagram on IOS
Iphones have a different interface than androids. They are more convenient and user-friendly. Here are the steps you need to follow to find your friends on Instagram.
Open the Instagram application on your phone.
Tap on the profile option where your controls are available.
Click on three lines made on the top right corner of the profile screen.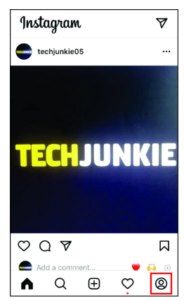 They will give two options, "sync with Facebook", or "sync with contacts".
Choose your preference.
Give access and within a few minutes, all the contacts will be in sync with Instagram. Now you can easily find your friends and family on Instagram by their profile or number.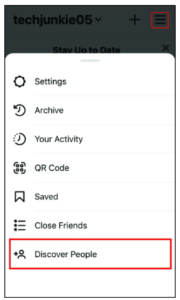 Now you can choose to follow or send a request to them.
Instagram made it so easy for every user to find their loved ones on the social media platform.
How to Find Your Contacts on Android
Now things are a bit different for android phone users. There are a few more steps than IOS. Following are the steps you have to follow to sync contacts easily.
Open your Instagram account.
Tap on your profile in the bottom right corner of the screen.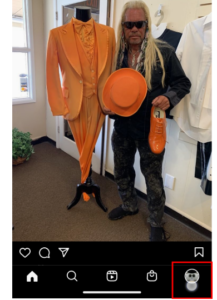 On that screen, you can see the option of "discover people" right under your bio.
It is placed right in front of you so you don't have to find it in the settings.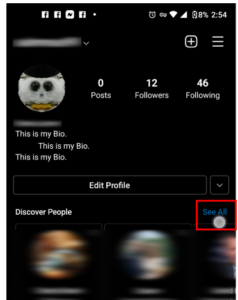 Now you can see two options there, Facebook and contacts.
If you choose to "connect to Facebook", you have to login into your account. Sync in with Instagram and press ok. They will ask for Facebook access, and after confirming that the syncing will start instantly.
If you choose "connect contacts", they will ask for access to your account. After you press ok, the phone will start syncing with contact numbers.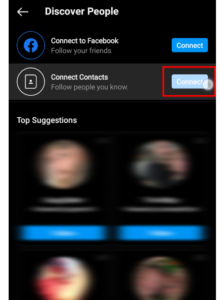 If you want to find anyone, you can choose the magnifying glass icon available on the application.
You can insert the user id and here you can find the particular user easily.
How to Turn off The Sync on IG
Now if you want to turn off this syncing the procedure is so simple and convenient. You have to follow a few steps; they are almost similar in both IOS and Android. Below are the steps you have to follow
Open the Instagram app on your phone.
Find the "discover people: option on the settings or from the profile options.
Then select that option
Toggle of syncing switched on in that settings
Turn that off
And that's it, now your application will stop syncing contacts from Facebook and contacts.
Other Options to Find Your Friends on Instagram
Other than this method you can find contacts by different methods as well. You can write their full names, hash tags, place, audio, and other options to find your desired person. Finding and adding your contacts on Instagram has never been more straightforward. All you need to know is where to look for them, and Instagram developers have made sure that it's just a click away. Once you know all the tricks, you'll have your family and friends as Instagram friends.
Frequently Asked Questions (FAQs)
Here are a few questions users can have in their minds. We will try to give a complete guide on how to find friends on Instagram easily.
Can you find anyone on Instagram if you don't have an account on the platform?
Ans. Yes, you can find anyone without having a personal account. You can just enter the name and if that name is available on the site, it will appear. You have to log in to follow or contact them.
If you find someone whose account is not in a public setting, maybe you can face some difficulty. So private accounts are a bit difficult to find, but with a valid account and technique, you can find them easily as well.
Can you find anyone if you do not know their real name or their insta handle?
Ans. Now, this is a bit tricky but we can do a few things in this matter. If you know anything about them like their interest, locations, favourite brands, or anything. You can track them by this. You just have to dig a bit more than anything. But by tracking their routine and likings you can find their account as well.
If finding contacts slots gets blank after a while, what should we do?
Ans. Sometimes Instagram algorithm cannot load the contacts or accounts. It is due to some minor malfunction or problem occurring. Just try to on and off the synchronisation a few times. It will be okay and you can find contact once again.