Instagram has very strict community services when it comes to content. When any of the users violate one of the rules, Instagram will instantly notify a user about it. If you constantly violate it, it will permanently ban your account. Instagram has a proper way to keep the platform smooth and clean.
You can witness that sometimes you are trying to upload a picture, video, story, or reel. And the application is not responding and constantly showing the following message on the screen.
This message box has a very deep meaning in it. Initially, it means you have done something bad using your account. Or in other words, you have reached the limit of any Instagram feature. It is also important to discuss that if you see this message that means your account is restricted to a limited time. Mostly the restriction is lifted after 24 to 48 hours depending on the violation.
But if you are unable to use your Instagram account after the told period, let alone you cannot even login to your account. This is an alarming situation. It might mean your account is banned permanently.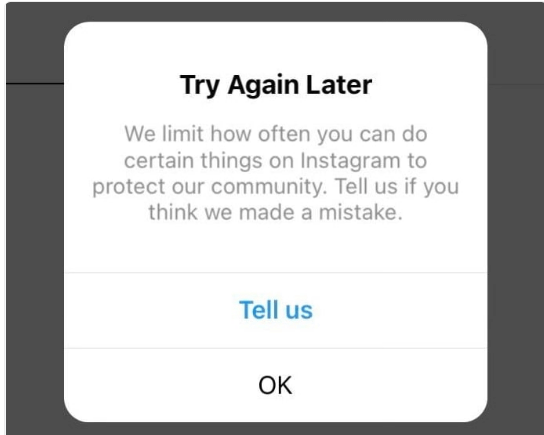 Limitations on Instagram
Instagram hates spamming and bots on its platform. It takes every step to prevent bots and artificial users to be on the application. It will scrutinize and restrict the account according to users' actions and posts. Here are a few limitations that every user needs to know if they want to know the real reasons behind the restrictions.
Another thing that determines the restrictions is Instagram's trust score. It depends on the following factors
The first factor is the age of your account. New accounts tend to have a higher limit as compared to the older ones.
The total number of followed accounts, as well as the total number of accounts that follow you.
How engaging your posts are? If your posts have a good reach, you'd be given more relaxation.
Now we will discuss all the limitations one by one. It will help us to avoid future restrictions and banning from social media applications.
Limitation on Posting or Sharing Forbidden Content
You can refer to the "Community Guidelines" of Instagram to know which type of content is acceptable on Instagram and which one you should avoid.
However, there are some basic types of forbidden content that you must avoid if you want to stay on Instagram.
Sexual content (including nude pictures)
Hate speech against any race, ethnicity, social case, sexual orientation, disability or disease, etc.
Encouraging violence in any way.
Harassing or threatening other users.
Online gambling.
Instagram is very strict about deleting bots from the application. To prevent it application has set a few limitations so that they can capture bots easily and ban them. If you want to post stories on your profile, you can post up to 100 stories per day. Your captions should not exceed 2200 characters per post. You can follow 180 to 200 pages per day and the same numbers are applicable while unfollowing as well. If you want to like pictures frequently, your limit is 1000 posts per day. You can send a direct message to 80 to 100 accounts per day. The hashtag limit on Instagram is 30 per post. You can add stories for up to 15 seconds while IGTV can limit up to 60 minutes. If you are seen violating any of above limitations, you will receive first warning that can cause restriction and eventually permanent ban.
How to fix this problem
Here are a few tricks and tips you can opt to fix this problem and avoid the temporary restriction on Instagram in the future.
Delete the story or post that can cause the problem: If you see the message on your account, immediately delete the video or picture that can cause a minor problem for you. It will help the Instagram team to unrestrict your account consistently.
Report error to Instagram: The moment you saw the message, whether on android or iOS, report it to Instagram and try to tell them your side of the story. If your case is strong then they will unban your account immediately.
Change your account password: This is the most useful hack user can opt to fix this problem. Go to settings and change the password of your account. It will clear all the glitches and junk from your account and you can post your content easily.
Backup Account: Make a backup account if your account gets restricted. In the new account, you can contact your friends and in this account, you can avoid all those mistakes you have done in the restricted account. It will also help you get your old account back as well.
Be careful while using hashtags: Another hack you can try is to be careful while using hashtags. Do not use any expensive or rude hashtag that can cause restrictions on your account. Other than that use keywords and hashtags that will boost your post rather than making it controversial.
Clear Cache: Sometimes all it takes to beat an action block is to simply clear your Instagram app's cache, close the app, and reopen it.
Here's how to clear your Instagram cache on your iPhone:
Open the "Settings" app on your phone
Tap "General"
Tap "iPhone Storage"
Scroll down and select Instagram"
Select "Delete App"
This will clear your Instagram app's cache completely.
Important note:
You won't have to log back into your accounts… this is just clearing the cache and clearing up space on your phone.
Conclusion
Using Instagram is all fun until you get your first warning message from the community team. It can cause a bit of disturbance and spoils the experience of the application. We have discussed all the reasons and tricks and tips that can help you to fix this problem in your account. It will help you to get your account back and unban the account permanently.