Since smartphones came, people have lost no privacy. Their phones are always ringing and people want to connect with them all the time. It is really difficult to keep the focus on one task. It can affect your productivity and can be harmful if any important project is getting neglected by you.
Most smartphones have a feature of enabling the Do Not Disturb option in their phones. It may stop continuous notifications for some time. This feature can help you complete important chores in a meantime. But IOS or IPad or MacBook has a special feature to cope with this problem. It is known as the Focus option in DnD mode.
What is Share Focus Status?
You can find a focus mode only in Apple products. The interface of this feature is very convenient. When you turn it on, it will ask the reason for which you want to turn it on like work, sleep, driving, etc.
The Focus feature on your iPhone and iPad (also known as Do Not Disturb) mutes all your notifications and incoming calls, letting you do exactly what it says: focus. But this won't stop other people from texting you unless you let them know that you're in Focus mode. It will enable Focus status on your device and that you can share with other people as well.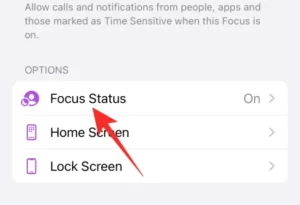 You can have the following features after you turn on the focus more on your apple device.
Control Notifications: After turning it on you can control what notifications you want to get and what you want to ignore. You can apply it to certain applications and contacts. You can control which calls to take or not. In short, this mode will do as you say to it and help you focus on the tasks efficiently.
Customize it at your convenience: Generally a feature covers the whole device and if you want to exclude a few apps or features, the phone does not allow you. You can customize it on your iPhone while turning on focus mode. This feature is made for your convenience so it has all the keynotes for your ease.
Notifies important reminders: Even if you turn on the focus mode on your device, it will still notify you if you have enabled emergency calls or notifications, if you have set any reminders it will tell you that as well. It will not affect your work productivity and will tell all the important tasks you have been assigned to.
How to Turn Off Share Focus Status for All Contacts
To turn the focus status on you have to follow a few steps
Open your iOS settings and look for the "Focus" option signified by a moon symbol.
Select the Focus Mode of your choice (Sleep, Work, etc.)
Find "Focus Status" under the options.
Tap "Focus Status" and turn on the feature. Now, whenever you turn this Focus Mode on, those trying to contact you will know you are away.
Tip: You might find that Focus Status is already on. This feature is on by default unless you've turned it off in the past. In that case, you can still tap it to learn additional information about this feature on the next screen.
Repeat these steps for all the different Focus Modes you want to share with your contacts. Now you can select applications and contacts you want to share focus status on or not. It is only applicable if another device has the same iOS version. It is visible to all contacts by default but you can follow a few steps to turn it on for desired contacts.
Open your messages or contacts
Go to the desired contact you want to turn on the focus status.
Click on the name
Scroll down, there you can see the option of Focus status
Turn on the toggle
After that when you send any message the read receipt will be written "quietly delivered"
The notifications of that contact will mute and he will get to know that your focus status is on
How to Turn Off the Focus Status
You have to follow a few steps to turn it off on your device.
Tap on "Focus" in your Settings app.
Choose the Focus Mode you want to stop sharing.
Tap on "Focus Status" under the options and toggle the switch. Now, your contacts will not be notified of your Focus Status when using this Focus Mode.
Repeat these steps for the rest of the Focus Modes you don't want to share.
Why Can't Someone See My Focus Status?
Ideally, Focus Status when enabled will be active for everyone who texts you via the Messages app. If someone isn't able to see it at the bottom of a conversation thread, it could be for any of the following reasons:
You haven't enabled Sharing across Devices inside Focus; this forces Focus Status to get disabled automatically.
You haven't enabled Focus Status for a selected routine.
You have added this person to your Allowed People list, because of which all messages from this person are delivered to you normally.
You have added the Messages app to your Allowed Apps list. This way, Focus Status won't be shared with anyone who texts you via iMessage
Allow Time Sensitive notifications
When you first set up a Focus, you can turn on Time Sensitive Notifications to allow people and apps to notify you immediately, even when you have a Focus turned on. Here's how:
Go to Settings > Focus.
Select the Focus, then tap Apps under Allowed Notifications.
Turn on Time Sensitive.
iPhone screen showing how to enable Emergency Bypass
You can also allow certain contacts to reach you in the event of an emergency, even when you have a Focus set up. Here's how:
Open Contacts and select a contact.
Tap Edit, tap Ringtone or Text Tone, and then turn on Emergency Bypass.
Tap Done.
Conclusion
The world is so fast and with this consumption of smartphones, it is really difficult to complete tasks. To keep on the calendar and focused you have to find a way. Focus share mode is the best way to keep on track and through this, you can complete all-important tasks within time and deadline easily.