Starting a company to create something you are passionate about is the most adventurous thing most people experience in their lives.
But this is just the first step. Now you need to learn how to promote the business you've created and make it recognizable, loved, and respected.
Today we will look at one aspect of business promotion: through social media. We will tell you all about making content, how often do you need to post there, and what other secrets this type of promotion has. Let's get to it!
Choose Your Fights Wisely
There are tons of popular social media platforms on the internet, and most of them try to attract a very specific audience. For example, Facebook is usually used by more mature people, TikTok is a Gen Z pool, and Instagram is the favorite social media of Millenials.
Of course, if you can, you can make content for all famous platforms, but there's "but"…
Creating high-quality social media content is not cheap, and that's why it will be so much better for you to invest your finances into platforms that give you the best ROI. And by this, we mean those platforms where your people are hanging out for the most time.
Create a Consistent Posting Schedule
Just like with your business blog, you need to be very consistent with your posting on social media. First of all, regular posting keeps your pages alive and convinces the platforms that you are serious about them. This way, social media algorithms have no other choice but to promote you.
Secondly, by posting every day or on specific days according to your social media calendar (every two days, three times a week), you train people to expect the content from you.
In our opinion, the best schedule for posting is the daily one, but you can make big posts only twice a week. On other days just post news, lifehacks, reposts of your products' reviews, etc.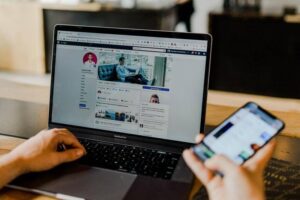 Make a Damn Good Content
If you do it, do it right. Choose only the best photo editing software for your visual content, hire professional writers for posts, and always set a high bar for quality.
Do not make every post about advertising. Make people read you not only because you have an amazing product but because you have very good content on your page. If they love your regular stuff, they will gladly support you when you post an ad on your page.
Video Content is Your Best Weapon in a Promotion Battle
We strongly advise you not to restrict yourself to texts and photos as your main social media content. In the age when everyone prefers video instructions, manuals, and reviews, not using video content on your social media pages is just foolish.
Create small clips for Instagram and TikTok, longer posts for Facebook, and at least 10-minute videos for Youtube. As for the last ones, we recommend you leave reviews, long tutorials, and how-tos for YouTube content.
Make awesome transitions or merge videos online, download a desktop video editor to make some more deep editing – don't limit your fantasy and use the right tools.
Involve Your Audience in Your Social Media Life
Posting fun and entertaining content is good enough when you don't have a lot of followers on your social media pages.
Once you've attracted a decent audience, it is time to start involving people in your social media life more. At the end of every post, ask them questions, ask for feedback or throw a survey in posts from time to time. Of course, with a discount attached to a survey because who has the time to do it for free?
Next, make contests, giveaways, product-for-review campaigns, etc. Just try to keep the people coming to your page regularly, which will help with its promotion drastically.
Address the Issues in a Timely Manner
There's no such thing as a business without conflicts. You can't satisfy every customer, and mistakes just happen sometimes.
What's really important in this situation is your reaction to negative comments and bad reviews. First of all, address the problem as soon as possible. If you don't have information to resolve the conflict right away, contact the client and tell them that you're working on it. Always demonstrate that you want to help them.
If you've got a bad review, be respectful, try to learn why a person didn't like your product, what went wrong, and try to explain how to do it right. Apologize for their bad experience and help them resolve the issue ASAP.
Here we have one but. If you see someone leaving a negative review that is clearly misleading and promotes misinformation about your product, always fight back. Explain to them why the review is unfair and how a person can fix it. You do it for your other customers because they should see that you react when your reputation is being abused. And always follow the golden rule: be respectful, constructive, and confirm every word you've said with hard cold facts.
Include Advertisements in Your Marketing Budget
What can we say? Advertising just works, and we can't do anything about it.
If you can, use targeted Facebook and Instagram ads to widen your exposure and to attract new audiences to your page. Do not forget to experiment with this kind of promotion, try various types of texts and visual content to see what works best in your particular case.
Conclusion
At the end of this article, we would like to give you our favorite tip for business owners: always try to find an unorthodox way to promote yourself on social media.
Try new creative ideas and experiment to find your personal way to blow up on the web. Every company has its own journey, and we hope yours will be as successful as it can be. Good luck!