For any business entity, every project and document must be well managed. A good manager makes sure that every aspect of the business is running smoothly. Since this is the modern world, for every task and problem there is a tool available in the market. For project and business management there are various tools available, that you can choose that are well suited for your business.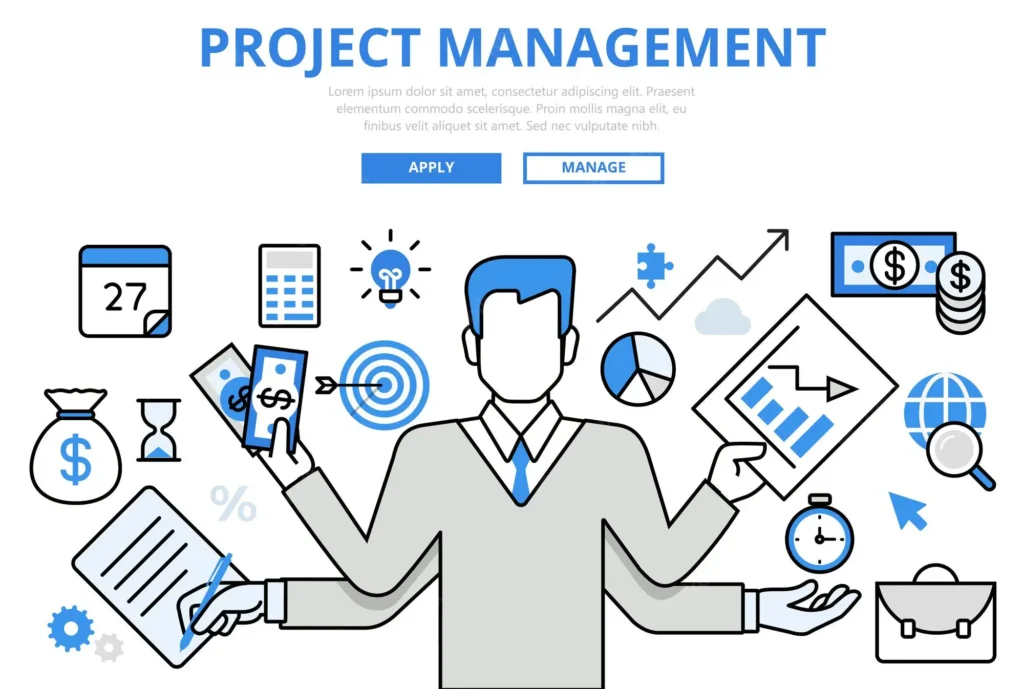 Project Management Software
These are the software that is widely spread in the industry. It takes entire teams to control their budget, quality management, and all documentation exchanged throughout a project. In short, this application is enough to cater to all the essential procedures in any project. Some of the steps are as follows
Task Lists: Good project management software must have a proper task list option so that one can register its workings in effective ways. A business person can record the findings and minutes in the said list and go forward to complete the task within the required deadline.
Schedules: Good management software must know the effective scheduling of tasks and meetings. The software will take care of important tasks and keep you reminding about its execution.
File Sharing: An effective management tool have the widest range of file sharing options. Within on or few clicks any file can be send to all the important personnel of the project, despite of their demographic locations and positions.
Communication: Project management tool should communicate with employees and potential partners as well. Through this all the important decisions of project can be discussed in necessary departments.
Reporting: Good management software can help to report about progress and problems in all team members.
How to choose good project management software?
It is not necessary whether what software you are choosing is expensive or not. The main concern should be whether that software can cope with the nature of your business or not. Here we are discussing famous yet effective software that is used by many famous companies itself. You can analyze and choose among them according to your preference.
Monday com
This software is the most effective because it has won so many awards in the said field. It is used by Hulu, BBC Studios, Coca-Cola, L'Oréal Paris, Adobe, and Deezer. Software that can be used in the diverse mode of situations and tasks. It integrates with other project management applications like Slack, Google Drive, Gmail, Google Calendar, Jira, GitHub, Trello, Dropbox, Typeform, and many more, accessible via Zapier.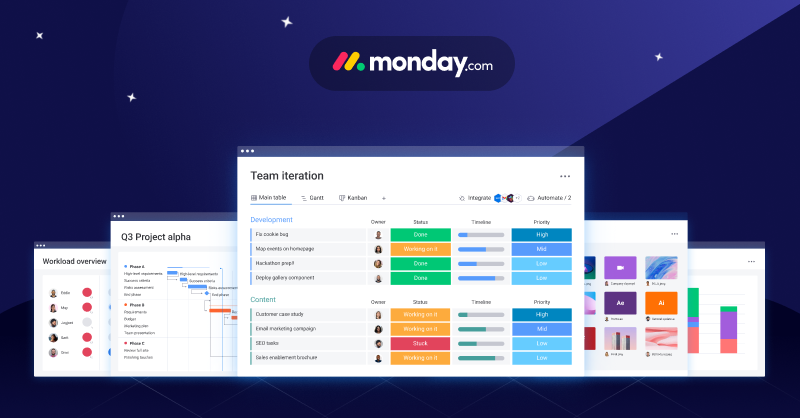 This tool is highly customizable and flexible to cater to all the problems.  It can schedule the tasks for every team member and record the progress accordingly.             Its interface is fun to play around that you can make it color-specific to highlight important tasks. It also makes a workflow board of the project so you can check after the completion of the task.
The only problem you can face is its complex tools and features. But once you have a command over the tool, this may be the best decision for your business so far.
It has different payment modes; you can opt for anyone that is suitable for you. It has a Basic €17 (2 users/ month) to Pro €39 (2 users/ month). They also offer an Enterprise package (pricing available upon request). For its price, it may not be suitable for small businesses and new ventures. It also comes with 14 days free trial pack. In USA it comes with $6 (2 users/ month).
Zoho Projects
The most convenient and straightforward tool in project management is Zoho projects. It has everything from Project Planning (breaking down projects into manageable units) and Gantt Charts (to visualize the progress of tasks) to Reporting Tools, and Collaboration Software (to ease contact between consultants, vendors, employees, and clients) and Document Management. It is also interconnected with Google apps, dropbox, Microsoft Office 365, Microsoft Teams, Google Drive, Zapier, Zendesk, and ServiceNow.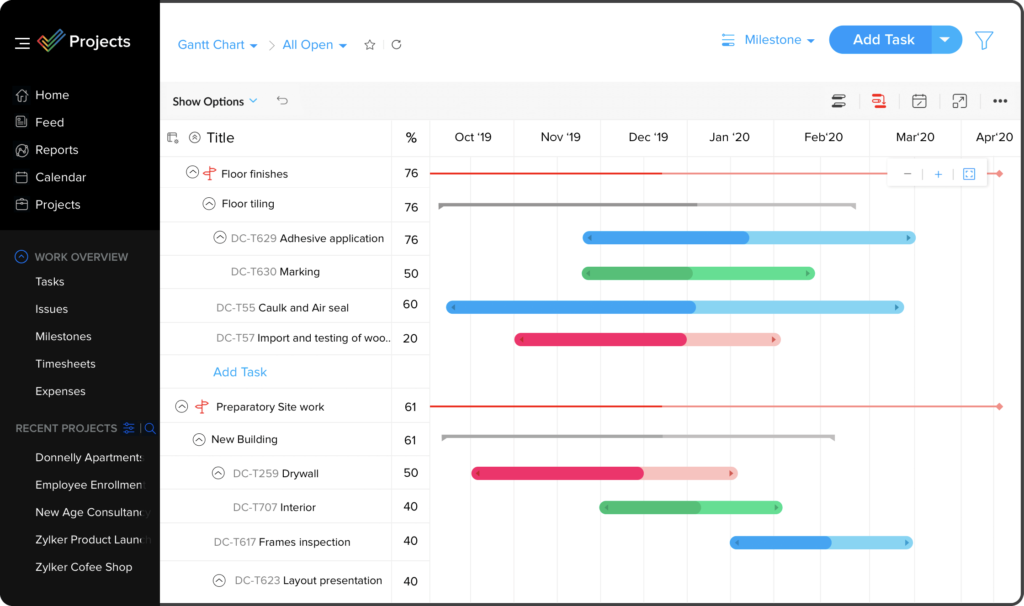 It can also design a flexible yet effective design that each team member can follow easily. It will increase the productivity of the project. You can create an unlimited number of projects with this tool. It does not run out of memory.
For prices, it has different packages in both USA and UK. In the USA it gives a 10-day free trial to every new user, where you can make 3 projects and 2 persons can use it. After that, they charge around $5 per month. In the UK they give 1 project and 10 MB storage for a free trial. After that, they charge around €25/month, premium (€50/month), and enterprise (€80/month).
Wrike
Now, this tool is one of the most expensive ones in the market but it is best for scale-based businesses. The free plan offers task management, interactive boards and spreadsheets, an account-wide work schedule tool, cloud integrations (Google Drive, OneBox, Box, OneDrive), and two gigabytes of total storage space for unlimited users.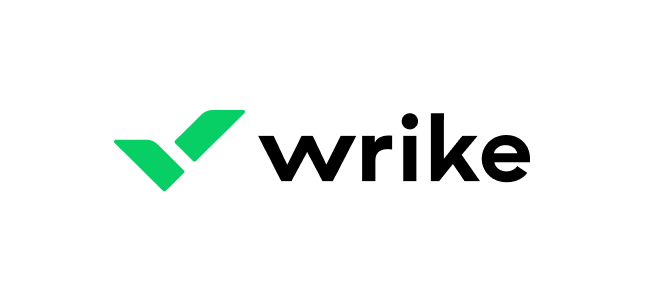 Wrike works basically on emails and task lists. You can make useful dashboards, and a comprehensive reporting suite is built into the tool, you can make various projects based on this integration. Wrike may not be famous among big businesses but it allows you to make multiple-dimensional projects within the same company. A few disadvantages are it does not support offline access to data and its commenting section is quite complex as well. Wrike is compatible with windows, macOS, Android, and iPhone conveniently.
This is maybe the priciest plan you can opt for your entity. It offers two tiers, the professional tier, and the business tier. For selecting a professional tier you have to pay $9.8 per month. Meanwhile, for the business tier, it charges you around $24.8 per month. Enterprise option is also available but prices will be available upon asking.
Basecamp
Basecamp launched in 2004 and it has a decent 3.5 billion users now. The easiest interface for all the users to make project task plans. It allows the user to find any project by just typing its keyword. It has a wide field of customization and highlighting features. Basecamp is very useful for educational purposes. It's easy and user-friendly interface allows you to make projects that all team members can share and they can work according to that. It is also integrated with dropbox and google apps.
If you talk about price and fees it is quite convenient. For students and teachers, it is free of cost, you just have to enter the credentials they ask for. Basecamp's fixed $99 per month pricing makes it an appealing option for larger organizations, but small teams may find better value elsewhere. There's no free plan, but the length of the 30-day trial is more generous than most. Web, desktop, and mobile versions are available.
Liquid Planner
This is quite a powerful tool to cope with all the project management tasks. As its name suggests it has cross-project visibility, showing insights into progress, risks and budgets for all projects at once. Its advanced analytics help users manage project performance, view costs and profits, and monitor resource utilization, client portfolios, and baseline trends.
It is a cloud-based project tool and it is also integrated with zapier with its tasks. It also explains the work done and the rest of the tasks available to do so far. It is quite convenient for companies that work in layers and small projects. This helps break down the big task and complete plans efficiently.
LiquidPlanner doesn't offer a free tier, although you can try various plans for two weeks at no cost. Plans start at $15 per month per user (with annual billing) for a maximum of 50 projects and go up from there.
Project Manager.com
This is one of the oldest tools available for project management. Project manager launched in 1984 and it has won a lot of awards in this field. It offers task management and time sheets, both of which can be updated remotely. This project management tool also offers its users Gantt charts, Project Planning features, and a real-time dashboard.
In 2021, Microsoft dropped the tiered naming convention of Essentials, Professional, and Premium and replaced it with Project Plan 1, Project Plan 3, and Project Plan 5, leaving the majority of plan features unchanged.
It seems a bit like Microsoft office by its interface but the features and tools it gives to plan out your timeline are quite eccentric.
It gives a 30-day free trial offer, while for single use they charge around $35 per month, but for team use of 10 people, they charge around $20 per month. And if team members are 20, the subscription fee becomes $25. An Enterprise deal is also available but the price will tell upon asking.
Trello
Trello is a fun name just like its functioning. The best part of this tool is, that it allows you to view the whole plan in one glance. You can send cards and communication boxes to any chatbox or team member.  There's plenty of power under the hood, with cards able to include images and attached files, hyperlinks, custom dropdowns, due dates, and plenty more.
Trello offers a free package (with unlimited boards, lists, cards, and members). It also has a business class package that costs $9.99/month, which includes unlimited 'power-ups', which are different features and integrations, and an enterprise package that costs $20.83/month
Asana
Asana is a unique tool that gives the experience of an animation facility. It helps you to decide the whole work plan of the project accordingly. This allows you to spread your work tasks and planning to all of your team members in a few clicks. For making it a fun tool, whenever a task is completed a small icon zooms on the screen to announce the completed task.
Asana integrated with Jira Cloud, Salesforce, Adobe Creative Cloud, Tableau, Slack, Microsoft Office 365, Gmail, CSV Importer, JotForm, EverHour, OneDrive, Zoho Cliq, Box, Mailbird, Instabug, DRopbox, Gitlab, Trello, VElocity, Tick, and many more per their website.
From the price point of view, it offers a free trial as well. But for business use, they charge around $10.99 per month per user. The enterprise package is also present whom price is available upon asking.
Clickup
Clickup is another tool that is available for project management purposes. by using this you can customize your workflow, assign tasks and add different types of dependencies for tasks. It also helps in creating, sharing, and collaborative editing for Wikis and documents. Users can comment on documents and tasks, assign comments, and chat with other team members for increased communication and collaboration. Reporting features include the ability to create custom dashboards, as well as six built-in report types for team reporting.
From the price point of view, it is quite economical. Available in both USA and UK. In the USA, after a free trial, they charge around $5 per month. Meanwhile, in the UK they have two types of plans available. They charge for paid unlimited plan (€4.55 user/month) or a Business plan (€8.18 user/month).
Hive
A hive is like a beehive that connects all team members in one unit. Famous companies like Starbucks, Uber, WeWork, and IBM use this tool for their projects and workings. The special point of this tool is it is well connected and friendly for any type of business.
Hive also has full email integration in their project management tool, which allows you to send and receive Gmail and Outlook messages from the app. From the price point of view, they charge around $12 per month per user. It offers a free trial offer to 2 users as well.
Conclusion
Business entities are growing larger and larger day by day. Most of the time they do not know how to manage large-based projects and detailing. You cannot record every detail by hand each day. You have to find a solution that can hinder all of your problems in a few steps.
To cope with this project management software is developed. A lot of tools available but to get one it is necessary that you know the actual need of your business nature. After that, the said tool can help you in so many ways