Amazon is one of the most recent tech giants to enter the domain of foundational AI, inclusive of generative and large language models. Now the company has introduced a new platform called AWS Bedrock. This platform offers access to proprietary tools like the Titan family of foundational models, as well as pre-trained models from startups such as AI21 Labs, Anthropic, and Stability AI. The company emphasizes providing a diverse selection of models tailored for use in "enterprise-scale" AI tools. However, one expert has noted that Amazon still has " a long way to go" to catch up with other established players in the field.
What is Amazon Bedrock?
Amazon Bedrock is a platform allows companies of all sizes to develop and expand generative AI applications.
Customers may easily deploy and scale generative AI products with Bedrock's numerous foundational models (FM). Businesses may create generative AI applications for activities like data analysis and content creation with these FMs and other services.
Features of Amazon Bedrock
Text playground – A hands-on text generation application in the AWS Management Console.
Image playground – A hands-on image generation application in the console.
Chat playground – A hands-on conversation generation application in the console.
Examples library – Example use cases to load.
Amazon Bedrock API – Explore with the AWS CLI, or use the API to access the base models.
Embeddings – Use the API to generate embeddings from the Titan Embeddings G1 – Text model.
Provisioned Throughput – Purchase throughput to run inference on models at discounted rates.
Fine-tuning – Create a training dataset and fine-tune an Amazon Bedrock model.
Model invocation logging – Collect invocation logs, model input data, and model output data for all invocations in your AWS account used in Amazon Bedrock.
The following capabilities are in limited preview release. To request access, contact your AWS account manager.
Agents for Amazon Bedrock – Build agents to perform orchestration and carry out tasks for your customers.
Knowledge base for Amazon Bedrock – Draw from data sources to help your agent find information for your customers.
Read more about Amazons GPT44x and Amazons GPT55x
Supported Regions
Amazon Bedrock is available in the following AWS Regions:
How Much Does Amazon Bedrock Cost?
Your AWS account is instantly registered for all AWS services, including Amazon Bedrock, when you sign up for AWS. You are only billed for the services you actually use, though.
Go to the AWS Billing and Cost Management console's Billing and Cost Management Dashboard to view your bill. See the AWS Billing User Guide for additional information regarding billing for AWS accounts. Get in touch with AWS Support if you have any inquiries about AWS accounts or billing.
You pay to execute inference on any of the third-party foundation models using Amazon Bedrock. The amount of input and output tokens as well as whether or not you have purchased provided throughput for the model determine the pricing. See the Amazon Bedrock console's Model providers page for additional details. The price for each model is shown after the model version. Refer to Provisioned Throughput for further details on how to purchase it.
How Amazon Bedrock Can Help Businesses Use Generative AI Tools?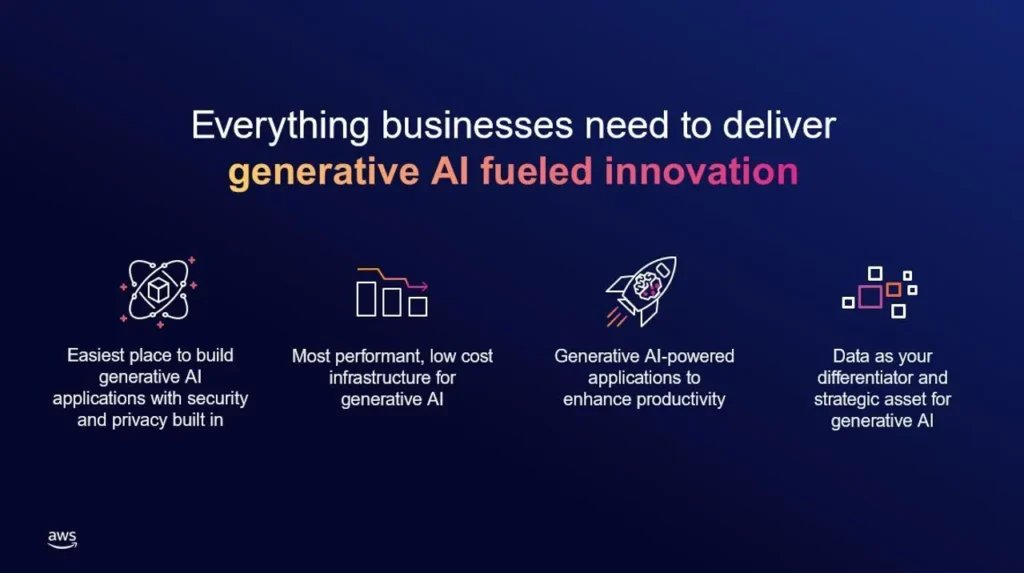 Amazon is in the race to Generative AI tools. Here are some ways it can help businesses use generative AI tools.
·       Democratizing AI: From startups to Corporations
AWS introduced Amazon Bedrock in April, and over the past five months, both startups such as Coda, Hurone AI, and Nexxiot, and major corporations including Adidas, GoDaddy, and Broadridge have leveraged the platform.
From travel companies like Lonely Planet to independent software vendors (ISVs) like Salesforce, Amazon Bedrock democratizes the development of generative AI tools, catering to a diverse array of businesses.
Swami Sivasubaramanian, vice president for Data and Machine Learning Services at AWS, stated in a blog post, "We've seen adoption by notable organizations like Philips and LexisNexis Legal & Professional. With the latest capabilities introduced today, we anticipate improved efficiency, heightened customer interaction, and more customized experiences that will revolutionize business operations."
Additionally, Amazon offers a complimentary 60-minute digital course to aid users in getting started with Amazon Bedrock, along with a selection of on-demand training courses.
·       Cost-Effectiveness
The saying "time is money" is particularly relevant in the realm of generative AI.
Developing, training, and deploying a Large Language Model often demands weeks or even months of effort, involving skilled professionals, data collection and storage, and powerful hardware. With Bedrock, businesses gain access to a comprehensive platform for AI models, enabling them to select models that precisely align with their requirements and fine-tune them with their data.
Amazon Bedrock users can sidestep the hassle of managing their own servers. Its serverless design ensures that businesses only pay for the resources they utilize, eliminating the need for infrastructure management.
AWS has committed to maintaining affordable Amazon Bedrock services, aiming to broaden accessibility for individuals and businesses alike. It offers various pricing models, including on-demand, provisioned throughput, and customizable model options.
·       Making The Ability to Customize AI Easy
AWS is expanding customer options by introducing Meta's Llama 2 in the coming weeks, alongside Amazon Titan Embeddings. According to Sivasubaramanian, this addition "provides customers with greater flexibility in choosing the most suitable model for each specific use case."
Llama 2 is joining the existing models within Bedrock, including those from AI21 Labs, Anthropic, Cohere, Stability AI, and Amazon. The diverse range of models enables customers to enjoy extensive customization options, allowing each model to excel in specific tasks while potentially being less effective in others. This flexibility also makes the platform accessible to businesses regardless of limited budgets or expertise.
In terms of customization and data security, Sivasubaramanian also announced that Amazon Bedrock is now HIPAA-eligible and compliant with GDPR. This development empowers customers in the healthcare sector to create generative AI applications such as virtual health assistants for patients seeking pharmaceutical information, medical record comprehension and categorization, or patient data analysis for predicting potential complications and enabling preventative measures.
Sivasubaramanian further emphasized, "With security and privacy as core pillars since its inception, Amazon Bedrock ensures the protection of customer data. None of the customer's data is utilized to train the original base FMs. All data remains encrypted both at rest and in transit. Additionally, customers can expect the same robust AWS access controls provided with any other AWS service."
·       Giving Businesses Speed to Market
Generative AI tools like Amazon Bedrock, with their provision of pre-trained FM to build upon, aim to streamline the time-consuming aspects of launching an AI-powered system. This streamlining enables systems to prioritize customization, thereby significantly expediting the transformation of a generative AI tool from a concept to a market-ready product.
For instance, an online store could seamlessly incorporate AI tools generated with Bedrock to enhance its search functionality, providing shoppers with personalized recommendations. Similarly, a bank can swiftly utilize these tools for risk management without compromising data privacy.
Sivasubaramanian highlighted, "The new capabilities and models introduced today for Amazon Bedrock collectively contribute to expediting the pace at which enterprises can develop more personalized applications and boost employee productivity."
Frequently Asked Questions about Amazon Bedrock
Is Amazon bedrock available?
Amazon Bedrock is now generally available. It was first revealed as a preview in April of this year, along with a number of other new tools for creating generative AI applications on AWS.
Is AWS bedrock serverless?
You don't need to manage any infrastructure because Amazon Bedrock is serverless, and you can safely integrate and implement generative AI capabilities into your apps using the AWS services you are already familiar with.
When was AWS bedrock released?
With Foundation Models, Build and Scale Generative AI Applications with Amazon Bedrock, Now Generally Available. October 10, 2023, update Three geographical regions are presently home to Amazon Bedrock: Asia Pacific (Tokyo), US West (Oregon), and US East (North Virginia).
What is the purpose of bedrock?
Often used as the parent material (the source of rock and mineral particles) for regolith and soil, bedrock is composed of igneous, sedimentary, or metamorphic rock. Another source of nitrogen for the nitrogen cycle on Earth is bedrock. An outcrop is a bedrock deposit that appears at the surface of the Earth.
What is bedrock used for?
Drilling to the rockhead is a common method used to secure building foundations. The weight of a building can frequently not be supported by soil or unconsolidated rock, causing the structure to sink or sag. To ensure that bridges are safe and secure, engineers also rely on bedrock.
What is the difference between SageMaker JumpStart and Bedrock?
With SageMaker JumpStart, users may select the machine learning models and frameworks that best fit their needs by choosing from a large range. Users' options for models are limited by Amazon Bedrock, which confines them to pre-built models inside the Bedrock ecosystem.
How Amazon is using generative AI?
The listing creation and administration experience for sellers on Amazon has been significantly improved by the most recent AI developments. Sellers on Amazon will find it easier to write more detailed and compelling product descriptions, listing details, and titles thanks to a new set of generative AI capabilities.
References and Further Reading:
Amazon Bedrock – AWS – Generative AI
What is Amazon Bedrock? – AWS Documentation
What is Amazon Bedrock? 4 ways it can help businesses use generative AI tools