Have you ever tried to send a direct message to someone and got an error instead? It says something like "Couldn't create thread. We're sorry, but something went wrong. Please try again." Sometimes it can be a frustrating when you want to send someone an urgent message.
Interestingly you are not alone. Many Instagram users are facing or have faced this issue before.
This article will take you through the understanding of this error message. It will explain how to fix and how to prevent it from happening in the future.
Keep in mind that this issue can be from Instagram's end too. Sometimes Instagram is down and they may show this error. So, it is better to look at this in this way too.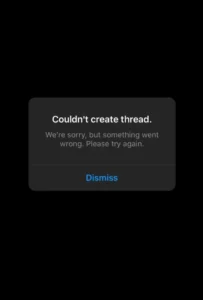 What Does "Couldn't create thread" Error Mean?
This error message indicates that you have sent too many direct messages at one go. If you have sent consecutive direct messages to other, IG may block you temporarily from direct messages. It is because Instagram receive automated behavior from you. It may think that you are the direct messaging feature. Another reason might be that the Instagram is down. You check down detector website and see if it has to do something with the Instagram being down.
How to Fix the "Couldn't create thread" Error?
The solution is simple. You don't have to do anything. Just wait for the things to cool down. This error can last for 24 hours or more depending on different factors. So, you can wait for this time to pass. However, you can have an alternate Instagram account to send direct messages if you need to.
How do I Prevent the "Couldn't create thread" Error?
If you don't want this error to surface again, you can do this. Don't use direct messages feature in a way that it seems like it is "automated behavior." Here is how you can do it in details.
Send Direct Messages in Intervals.
To prevent the "couldn't create thread" error on Instagram, you should direct messages others in intervals of 10 minute or more. Instagram punishes spam and bot activity, so act like a human while using this platform.
Stop using Automation.
Stop using automation to send direct messages to others. Automation enables you to send these messages at faster rate, but it can result in the error "could not create thread." So, stay on the safe side by avoiding automation.
Using Message Variations
Don't send same copy pasted messages to others again and again. Instead of send the same messages, try variation of these messages. It will help you to stay away from "could not create thread" error message.
Conclusion
Be patient when facing this error message on Instagram. You can wait for 24 more hours to pass and start using the platform again. However, it is better to avoid automated behavior to avoid this error messages again in the future.