Jackson Jones was born in a small Welsh town Called Caerphilly in the year 2000.  His astrological sign is Leo with Cancer rising. Within his early years he began to show his parents that he was aware of things outside the material world.
Jackson parents are both International Mediums & Healers. His father Jeff Jones, is a world renowned Medium & Author, His mother is a psychologist by profession along with being an International Medium/Healer.
From the age of eight years old Jackson was so interested in all things spiritual, His first ever paranormal investigation was at the age of nine years old and the event was held in an old manor house called "Llancaiachfawr".
The manor house was built in the 17th century and was approximately ten minutes from where he was living. Jackson was armed with a camera, torch along with some warm clothes and was in it for the long haul.
On this occasion Jackson managed to capture spirit orbs on his camera, so engrossed by the whole experience and what he caught on hid digital camera he knew from that very moment that this was something that was going to stay with him for the rest of his life.
From the age of sixteen Jackson wanted to understand his gift/ so he decided to find a reputable school who specialized in all aspects of the phenomena of Mediumship. Jackson decided to join The Academy of Excellence which is based in Stockholm Sweden.
The Academy offers a serious education within all aspects of mediumship and theory, after three years Jackson obtained a certificate of recognition which allows him to work as a professional Spiritual Medium/Practitioner.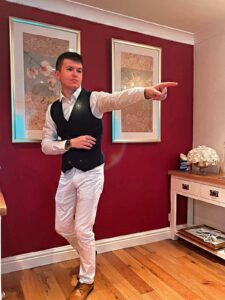 At the age of 16 Jackson did his first public demonstration of mediumship which was held at Marholmen Stockholm, this was the beginning of Jacksons professional career as an International Psychic Medium. Jackson has gone on to become well-known public figure.
Jackson continues working on an international platform and out of his busy schedule he finds time to help many charities to raise money for good causes along with finding the inspiration to work on new projects which is in the pipeline.
Very quickly Jackson was receiving a lot of attention and within a short amount time he has gained a substantial following on various social media sites such as Instagram, Google and Facebook.
Jackson during his young years has helped so many people around the world through his remarkable gifts of Mediumship and Healing. He has brought so much healing to those who consult him. Jackson provides evidential mediumship which proves without any shadow of doubt that there is no death.
Jackson passes on messages from loved ones who have crossed over into the Spirit World. Jackson was very blessed as well as privileged, to be born into such a mediumistic family.
Achievements
Jackson holds many diplomas and has received neuromas awards by an accredited teaching organization known as The Academy of Excellence which continues to be his place of development/study.
The Academy of Excellence is a non-religious teaching organization which is based in Sweden, Germany and Italy. Jacksons father, Jeff Jones is the founder of The Academy Excellence and teaches many students from around the world who are inspired to take their own paths into becoming successful Mediums/Practitioners.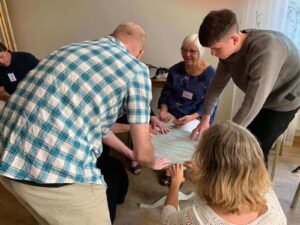 Understanding the sensitivity of children seeing "spirit" Jackson has gone on to become the voice for young people and he receives an enormous number of calls from family's with "hyper sensitive" children, whereby the parents firstly do not believe that their child is seeing "dead people" also known as the spirit world. Secondly, they don't even know where to begin with this so this aspect of Jacksons work is very important because he brings a lot of support, understanding and healing to those families.
Journey through the Covid Pandemic
Although a global pandemic took place and prevented Jackson from travelling around the world he began to adapt to the circumstances, with this in mind Jackson opened his own spiritual centre which is based in the heart of his home town Wales.
This has become the "hub" for everything including his own radio station which is called "Spiritual Airwaves radio Wales". Distance was no longer an issue as Jackson continues to provide the same professional services via zoom, skype, etc…
Contact Jackson Jones
Social Media
Instagram: JacksonJones_Medium
Facebook:  Jackson Jones International Psychic Medium
Google: Jackson Jones Medium
Webpage: JacksonJonesMedium.co